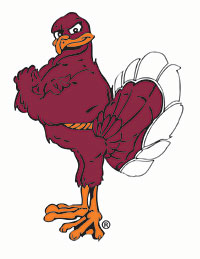 I live in Hokie territory. In case any of you don't know what that means, just try burning a Virginia Tech flag in effigy in Virginia and see what happens. Needless to say, T and I are not huge VT fans. I went to Miami.* I'm required by some sort of green and orange bond to hate Virginia Tech and all things Hokie. I'm pretty sure they covered that in orientation.
A few years ago, T and I scored tickets to a VT-Miami football game in Blacksburg. To be fair, the people of Blacksburg were as nice as could be, even to the Miami fans. The game itself was a bit overwhelming, with turkey calls and keys rattling. I remember that football fever and frenzy from my days at Miami, but I've rarely been to games where I've been in the minority. It was, um... interesting. And yes, Miami sucked donkey balls and T and I were able to escape without being torn limb from limb or anything.
Flash forward to a few weeks ago. The kids got a new movie, Chicken Little. As with all new movies that enter the house, they must watch it obsessively until they have something new to distract them. Consequently, we've seen the movie 548 times in the last 2 weeks. And that's only a slight exaggeration.

Today Little H walked with his sitter to see a neighbor on the corner. They walked past a house with a giant Virginia Tech flag flying in front. (You can't swing a dead dog cat down here without hitting a Hokie fan. Um, sorry. That was a really bad Michael Vick joke.) The flag featured the Hokie turkey quite prominently. Hollis turned to M, started hopping up and down excitedly screaming and pointing, "Look, Miss M! Look! A chicken! A chicken!"
T and I think this is hilarious, but M is worried that her family will have to move if word gets out that Little H has been calling the Hokie Bird a chicken.
Those little ones are awfully intuitive, aren't they? Maybe the new VT fight song can be the Chicken Dance.**




* Yes, yes, I realize that Miami is stinking up the football field this year too. I know, I know. No need to rub it in.
** I didn't realize until I reread this post that it could actually seem like a reference, in very poor taste, to the tragedy at VT last year. I assure you that this is just good natured ribbing from the fan of a football rival. I only mean to disparage the VT football team and its former player, Michael Vick. Please take it in that spirit.
Labels: football, Little H, Miami Hurricanes, NaBloPoMo 07