I've started a new blog. I needed something else to do, what with all the free time I have. Baaaahaaaahaaaa.
Snort.
I crack myself up.
Anywho, I've just purchased my first
real
SLR camera. I'm super excited to actually figure out what the heck I'm doing with a camera, as opposed to occasionally getting lucky and/or photoshopping the heck out of everything. I'm also starting a photography class in a few weeks.
So, I'm going to document my digital photography education and, of course, the photographs I take. Hopefully, I'll be able to see some evolution in my photography after awhile. And, of course, the new blog will give me someplace to post the 5013 pictures I take every month instead of forcing you to wade through 30 of them a week. I have a hard time choosing just 1 or 2 photos to post.
You hadn't noticed, had you?
The new blog is called
Lawyer Mama Dabbles
. I have that nifty little button down below - the unobtrusive one with the big sunflower - that will take you there. It's also in my left hand sidebar if you get lost. Unless you're color blind, you can't miss it.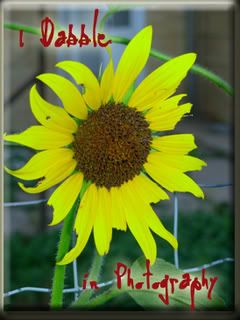 I must also tell y'all how grateful I am for your words of support, comments, and emails over the last few weeks. Please know that I have been reading your blogs, I just haven't been communicating much, through comments or anything else. If I haven't answered your email, please don't take it personally. I can't tell you how much every. single. comment and email meant to me. I'm just overwhelmed right now. I'm sure I'll be back to running my
mouth
fingers all over the Blogosphere and stalking
Wil Wheaton
soon enough.
Oh and can anyone tell me when new episodes of Project Runway are starting again? I'm going into withdrawal. During the hiatus, I've been amusing myself at
Project Rungay
. Have you read the blog? We need to start a write in campaign to get those boys onto Project Runway as guest judges. The Project Rungay boys are fab and bitchy. I want to be them. Except not, you know, male and gay.
Labels: Lawyer Mama Dabbles, Photography, Project Runway