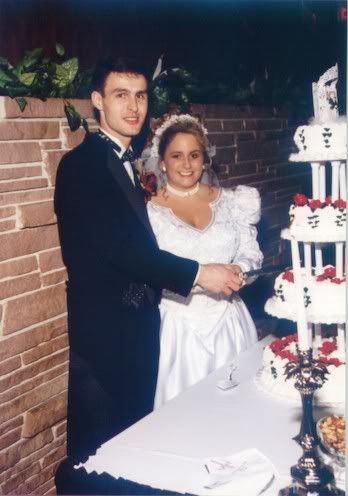 My wedding was wonderful. All of my best friends and lots of family gathered for what I have to admit was a hell of a party. Surprisingly, the open bar did not end badly and everyone was generally well behaved. T and I had been expecting the worst, and we were pleasantly surprised. It turned out to be a magical day.
And then the next day I started a fight with T and really upset him. I mean
really
upset him.
What a way to start off the marriage, huh? Way to end the magic, LM.
In my defense, it wasn't a major fight. It was just a little bickering. Neither of us can even remember what the fight was about. I guess what made it so memorable was T's response. I don't think I'd ever seen T react quite so emotionally before. In response to my puzzled inquiry T explained that it was the first day of our life as a married couple and we were already fighting.
That one really hit me in the gut.
Prior to marriage I had always half jokingly complained about T's decidedly unromantic nature. I'd seen T as a sweet, dear man, but not terribly romantic unless I planted the seeds of ideas for him. I didn't have a problem with this. I'm not a terribly romantic person myself. Sure, I like flowers or surprise romantic dinners as much as the next girl, but last minute trips to Jamaica or Paris have never been my bag. I like to be prepared and I like to be packed at least 2 days in advance. If I wanted something to happen, I dropped hints and T would comply. So T and I worked well together if a bit predictably.
Imagine my surprise at M-day + 1 when I discovered that T did have a hidden streak of romanticism, or at least idealism, about marriage. And I know all of you are thinking, "Well, I hope you apologized to the man!" But here's the thing - I didn't apologize. In fact, I remember saying something like "We fight all the time. Nothing has changed. It's just a piece of paper. What's the big deal?"
Ouch.
Just remembering that day I cringe a bit inside.
Throughout the years I've taken T for granted. And sometimes he takes me for granted. Mostly it's the other way around, but I realize my failings now in a way I certainly did not at 22.
I'm the high maintenance half of this relationship. Thoughtless words or deeds on my part are common. Thoughtful words and deeds from T, just as common.
I take T and his love, affection, and seemingly endless patience for granted.
And then T and I will have a fight. A really nasty one, where doors are slammed and love is questioned. And T always apologizes the moment he calms down. The. moment. he calms down. As if he can't stand for me to be angry with him for one second longer than necessary. It's obvious to me that the moment T clears his head from the fog of war, he forgives me.
And in some twisted way, T's forgiveness of me and my transgressions reminds me that I take him for granted. He humbles me and I, the slower to calm, forgive him as well.
Julie's
Hump Day Hmmm
for the week was "
What has the experience of being forgiven been like for you?"
I've taken this question a bit astray from perhaps its intended path. I haven't done many things in my life that are unforgivable, or even many that require much forgiveness. (Didn't you know that I'm
never
wrong?!) I've cut very few people from my life over the years and, as far as I know, been similarly cut by few people as well. Hence, my experience with major forgiveness is fairly limited.
I do not easily forgive others, even for minor insults. Nor is it easy for me to apologize. The act of apologizing is an admission of wrongdoing. It's uncomfortable. I think perhaps apologies are so uncomfortable for me because I hold myself to a high standard. And if I hurt someone else, they may forgive me long before I forgive myself. And then at other times, where the lines of fault are blurred, it's easier for me to remain righteously angry than to step up and repair a relationship. Particularly in a relationship where I find myself in the role of perpetual apologizer, the one always perceived to be at fault.
Although the role is not a comfortable one for me, I've been The Apologizer before. Usually with a friend or relative I could sense simply was not capable of clearly seeing their own faults. A particular friend I have in mind, seemed to think nothing of blowing up inappropriately at me on more than one occasion, hurtling personal insults along the way. When someone is always quick to find fault with me, but never to turn the spotlight back upon herself, is that friendship even worth salvaging? At a certain point, and I guess it's different for every relationship, I cut all ties. Sometimes forgiveness, when it isn't really needed or wanted, isn't necessary anymore.
But when I do find myself at fault, T is my inspiration. I try to remember that in apologizing and admitting an error or a grievance, I also forgive myself. And self-forgiveness can be much harder to receive than forgiveness from someone else.
You can check out the rest of the roundtable participants every Wednesday at
The Ravin' Picture Maven
.
Labels: Love of My Life, Roundtables