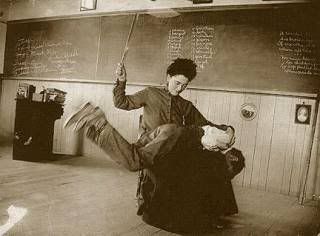 Now that got your attention, didn't it?
I've been having a lively debate with friends about spanking. It all started with the news that an assemblywoman in California has
proposed a law
(scroll to the bottom)
that would outlaw spanking a child under 4, making it a misdemeanor and levying a fine. I think that the intent behind the bill - decreasing violence in our society - is laudable, but come on! In most cases, there is truly a difference between a swat on the butt and a beating.
I don't spank and I decided early on that I never would. T, on the other hand, was always for it. (Get your mind out of the gutter!) T was spanked and recalls that it usually only happened when he really deserved it. Now, however, he looks at H&H and tells me he could never spank either of them. Plus, if we spanked our 2 year old, any temporary disciplinary benefit would be far outweighed by the long term results. He would turn around and start spanking Little H, the kids at daycare, and the cats. Probably with something heavy. I know without a doubt that the "we do not hit" lesson would go in one Big H ear and out the other as a result. This is where so many opinions diverge. Some people insist that spanking is the only way their child will listen and that a 2 year old can somehow figure out the difference between toddler hitting and parental discipline. I'm not sure that I buy that. Maybe Hollis is emotionally and developmentally far behind his peers, but I doubt it. I know the only lesson he would learn from a swat from Mommy or Daddy is that it's OK for him to swat too.
Whatever your views on spanking are, I think most of us can agree that a spank does not equal child abuse. If California really wants the community to take violence seriously, then start by funding social services so that social workers aren't doing drive by visits for slave wages. Give parents, rich and poor, the parenting tools and help they need when they're overwhelmed. Enforce the laws already on the books and then back them up with the money to support law enforcement and prosecution. Criminalizing spanking isn't the way to do it. Plus, can you imagine enforcing this law? How? Unless someone actually witnesses a spank or it leaves a serious mark (which would be child abuse anyway), how do we prove an illegal spank has occurred? I distinctly recall my quite clever and manipulative little brother threatening to call social services on my parents as a tool to get out of punishments. If my 6 year old brother could figure out how to push my parents' buttons like that, I can't even imagine what sort of ammunition the proposed law in California might give tots on the West Coast!
Let me know what you think. Is a swat on the butt a valuable parental disciplinary tool, a heinous form of violence, or something in between?
On an almost completely unrelated topic, while looking for details on the proposed California law I discovered that my malpractice insurance does not cover
spanking a client
. Good to know. I've been tempted in the past.
Labels: let's kill all the lawyers, Mama Drama